Diver's Knife – John Date Montreal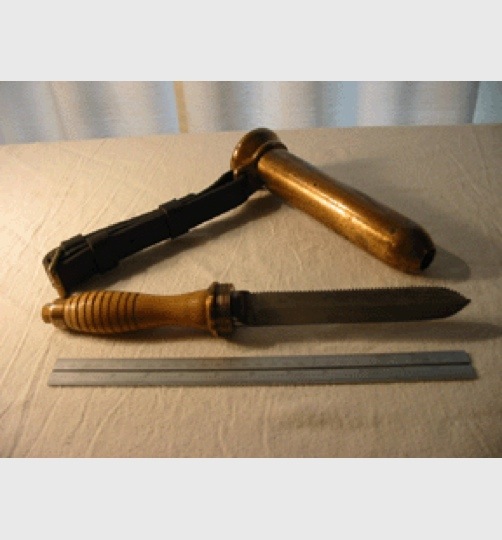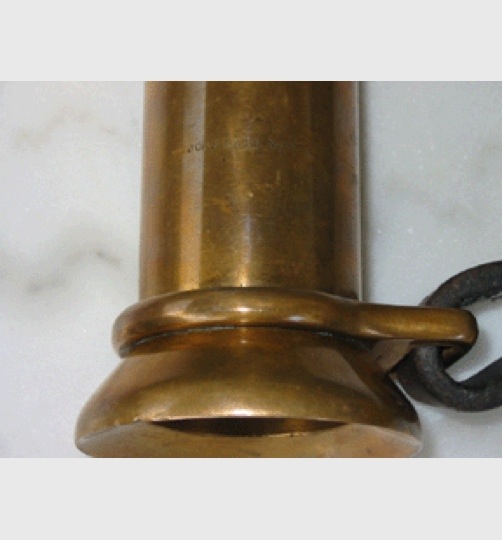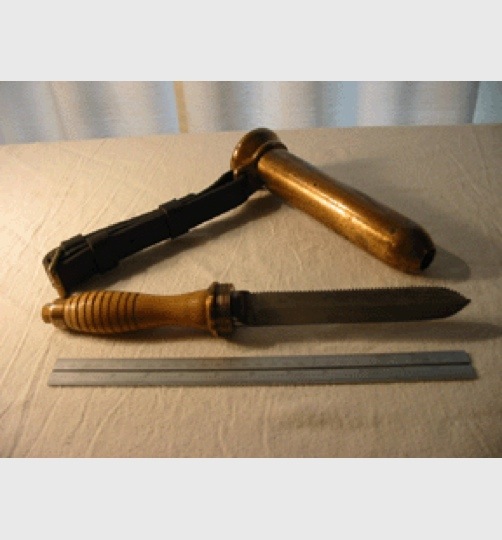 As the prices of diving helmets continue to rise, more collectors are starting with smaller items, such as diving knives, boots, books, etc., while waiting for the "affordable" helmet to surface.
Diving knives have always been a popular item, with a clear purpose and easily displayed. Siebe Gorman, Heinke, Draeger, Galleazzi, and virtually all other diving equipment manufacturers made distinctive working knives that, because of their robust construction, have survived to become part of diving's history.
Of these, perhaps the US Navy pattern knife, used with the Mk V rig, is the most recognized and widely manufactured, having been made by Morse, Schrader, Desco, Vince, Bomar, KaBar, BTE, Fisher Springs, and others. Most of these knives vary very little in design from the USN standard.
The Canadian firm of 'John Date' (variously and chronologically identified as John Date Maker, John Date Registered, John Date Limited or Date Diving Equipment Co.) manufactured knives to accompany their line of diving equipment from the late 1800's onwards.
This knife, which has clearly stamped on the scabbard "JOHN DATE MONTREAL", (which in size, spacing and font precisely matches stampings on other early components) in an inverted position, bears a strong resemblance to the USN pattern knives, but with significant differences, some of which are listed here:
The pommel cap is of a full hexagonal shape, and the screw thread retaining the knife in the scabbard is of a "V" form (double start, 12 TPI), rather than the Acme thread form found on the USN pattern.
The scabbard is slightly larger than the USN patterns, with further differences being that the bell mouth is of a far more rounded shape, the strap boss is a separate ring cleanly soldered to the body, and the drain hole at the end is a full ¾ of an inch in diameter.
The blade is of forged carbon steel, ground somewhat thinner in cross section than the USN pattern, and with a very pronounced saw edge serration.
This example is unique in that it retains the original leather strap fitted with 3 securing frogs and the typical early brass John Date harness-type buckle with a steel tongue.
This example, one of only two known to us, is considered to be an earlier example of John Date knife, preceding the conventional USN pattern knife which they produced for many years. We estimate this knife is from the 1920's or early 1930's, and is in unused condition. Amazingly enough, when the handle was removed, the tang was still covered with fine black mill scale and no rust.