John Date Helmet 360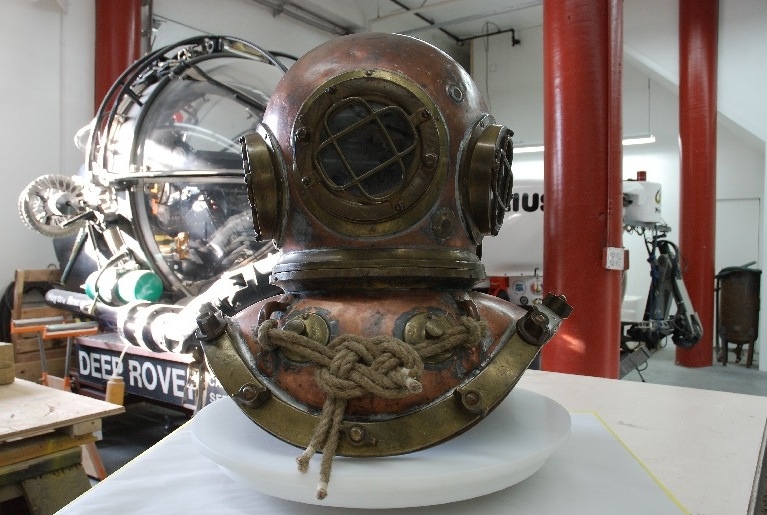 Click and drag to rotate the John Date helmet a full 360 degrees.
Shown here is a very old, Montreal made, JOHN DATE three light 12 bolt helmet of castellated construction and fitted with a non-recessed neck-ring. This helmet appears to be from the 1880's or 1890's.
This helmet has been modified by a number of working divers during its life, the major changes being the addition of a telephone receptacle located above and to the left of the distinctive stock hinged front light, and the narrowing of the original wide breastplate.
The telephone receptacle is of an identical and distinct form, as found installed by the JOHN DATE firm on some of its other early helmets.
The intention of the modification of the breastplate likely was to reduce the width, and therefore the circumference of the bolt pitch, allowing this helmet to be used with modern commercial dresses without stretching the gasket. Note that the inclined positioning of the shoulder studs was retained.
The exhaust valve is of the early DATE design, and is not provided with any internal water trap.
It is also interesting to note that this helmet continued in use for many years with a non-recessed neck gasket, the original 1.25" by 10 tpi Canadian hose connection, and no form of a bonnet lock, other than (we hope) the continued use of the weight hooks on the bonnet.
It is our understanding that this helmet spent many years in and around the province of Quebec before moving across Canada with its last diver to finish a long working life on the West Coast and enjoy a well deserved retirement!
If you would like to learn more about the history of John Date, read the article "John Date: Pioneer Helmet Maker".