Join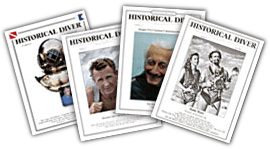 The Historical Diving Society-Canada (HDS-Canada) enables individuals, organizations and corporations with an interest in diving history to make academic, social and practical contacts on both national and international levels.
One of the most significant benefits of subscription to the Society is the quarterly magazine Historical Diver, which contains articles covering the history of diving from ancient times to the modern surge in recreational diving. The magazine features profiles on such personalities as Jacques Yves Cousteau, Bob Kirby, Joe Savoie and Hans and Lotte Hass, as well as in depth articles on Mark V diving helmets, scuba regulators and more.
Another valuable benefit is the Society's association with other similar organizations worldwide. These organizations welcome you to participate in their programs and functions at their prevailing member price.
For more information on joining HDS-Canada, contact us or have a look at our subscription form by clicking the button below. You can print it out and fax, mail or email it in to us.
We look forward to hearing from you!